Since I've lost Owen, it has occurred to me that it's not really the huge big occassions that cause emotional meltdowns. No, those big events, like my birthday, Owen's birthday, and Mother's Day, those days I think I dreaded for so long and expected such incredible grief that it ended up being easier than I expected. No, I've found that the moments that knock the breath out of me are the little moments that sneak up on me when I least expect it. Like on the 2 month anniversary of Owen's death when I went out to the MERE field to take softball pictures and was crushed with grief by the fact that everyone had just gone on with their life like nothing had ever happened. That not one person out there understood that two months ago I'd lost my son and they were just going on about softball and teeball practice like nothing had ever happened. Or like when I reached into the pocket of an old purse and felt something that felt strange only to realize it was one of Owen's syringes. Or the worst day yet, on October 16, the seven month anniversary of Owen's death, when suddenly I realized he'd been gone longer than he'd been here with me I couldn't breath, I felt my heart absolutely stop beating at the thought of it and I knew I couldn't think about it anymore. That was probably the worst of all the 7 month thing. But in each of these God was already there waiting for me - just like he was tonight.
I'm reminded of a quote that Aaron Moneyham sent me the night before Owen's first surgery. She had seen it on a church sign and I don't think I'll ever forget those words of wisdom. It read: "Fear not tomorrow for God is already there." October 16th was a Sunday it was hard but like most times I've allowed myself to ache for Owen it was short-lived. I won't let myself go there for too long because I don't want to live there. A few moments, minutes, or maybe even an hour after I realized Owen had been gone for 7 months and that his death had been longer than his life I was suddenly reminded of two things that had happened in the days leading up to that day. The Monday before, I was checking the mail, minding my own business and found a card, at first I thought the return address was from some of Ed's family in Molino, but then I realized it was a nice lady from Tallahassee, who had heard about Owen's story when he was still with us and had sent a man to our house with a homemade quilt that she wanted Owen to have. It was beautiful and came with a heartfelt card. Well, this particular week her card was quite different. She had just heard that Owen passed away (yes over 6 months later) and she had to mail me a card to let me know how much he had touched her life and how she would be in prayer for me and Ed through this difficult time. I remember thinking as I read that card - how nice it was to know that people were still thinking of us and how we still need to be uplifted like that. A few days later I got a text from a friend who wanted me to know that one of the girls in Glitter Girls (our church youth group for girls age 5-7) had requested prayer for baby Owen's mommy & daddy - out of nowhere. It all made sense to me 3 days later when I was blindsided by the revelation that Owen had been gone from sight longer than he was with us. I cried hysterically for a few minutes and didn't think I'd be able to catch my breath - then I remembered the card and the fact that we were already covered in prayer and I knew I would be okay.
I say all that to say this. I feel Owen with me always, but it's not always hard and sad. Of course, I ache for the things I won't have but I'm also grateful for the fact that he was mine if for even a little while. I understand that God answered all our prayers and he healed our son. I believe with all my heart that Owen is my angel baby and I don't want him to see me sad or depressed so I don't stay there long at all whenever I can help it. I know that God has blessed us beyond measure and that his grace covers us daily and that no matter where life takes me God has already gone before me and never will I have to face any hardships alone.
There's no way to be prepared for the moments that are going to catch me off guard and that's okay. I don't mind admitting that I'm human and it hurts like hell to lose someone you love. And the memories flood over me sometimes and I can almost feel him in my arms or on my chest and I don't want to breath in those moments for fear they will stop. And other moments there are floods of tears that creep up from deep inside me in a place I try to keep hidden from others til it just overflows out of me and then I can't stop.
Those are the moments I know God is near. Sometimes I can feel it coming and push it back down and that's what happened tonight. The tears came but not the flood and before I could hurt God reached out and said, "I'm here child, I'm here, you're not alone, you'll never be alone in this."
I was putting up the Christmas tree. A regular routine thing I've done every year for 25 plus years but this year for the first time ever it brought tears to my eyes. First of all nothing was packed up right. No offense grandmother and Aunt Rachel, I love you and God love you for rushing over and taking down my tree last year when we came home from the hospital but it was a mess trying to figure out where everything was. So, I'm instantly reminded of last Christmas and our Christmas trip to the Hospital - our last trip to the hospital.
I was anxiously looking for two ornaments - I couldn't find them fast enough, one was the photo ornament of Owen. I wanted to make sure it was placed on the front of the tree.
And the one I probably LOVE even more than that one is the footprint ornament - it reads "The first steps a baby takes are into your heart."
Once I had these on the tree I felt much better. I knew we had received a few "Baby's First Christmas" ornaments but I hadn't realized there were almost ten of them.
An "O" Cookie for Owen
A baby carriage that says "The Greatest Gift of All"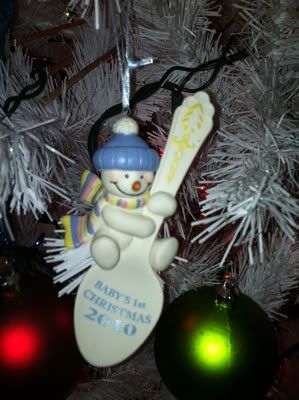 I was just about done with the tree and I felt the flood of tears welling up in me as I was looking at one of the many "Baby's First Christmas" ornaments and the thought creeped into my head "Baby's ONLY Christmas." I just about couldn't stand it. Ed had ran to the store I was all alone and I knew I could absolutely lose it - no one would fault me or judge me. But God is always right there - and sometimes I just feel like Owen's got his eyes on me and it's like he's saying God she needs you now because when it comes to my grief I never have to wait on God to cover me and remind me of my blessings and how much I have to be thankful for in this life. So instead of giving in to my grief I got back to work - remembering a small bag of ornaments that we had gotten last year that were tucked away in a bag. Two of them were wrapped up and I couldn't remember what they were. I picked up the first and began unwrapping it, while gently wiping tears from my face and there it was - I barely even remember it. But just on time like always I was reminded . . .
"Wherever you go GOD is already there."
In all things, great and small God is there. So, that's what I wanted to say, that's what I needed to share tonight. I can't imagine why anyone would want or need to read all that but I hope if you did that you will be reminded to look for God in the moments of life that make you feel far from Him because He is always there. And if Owen changed your life, or impacted it in some small way I hope that you never forget him or the impact he's had on you. I know he lives on in us and in many of you too.
God bless you,
Jerica