So, I just finished typing the previous blog - about my blessings - if you haven't already - read it first "Two Boys, Two Days" then read this one.
Okay so last night when I left for my photoshoot Ed was still at work. I had planned to have dinner with our friends and then I was going to visit a friend of mine who was in town from Alabama. It is extremely rare for Ed and I not to see each other or have time to talk to each other every night. I encouraged him when he got off to go do something since I was going to be out and about. So when I finished my shoot I touched base with him - he was at his brother's and I told him I'd be late getting in from visiting with Hilary.
When I got home he was already asleep so I didn't get to tell him about my night and the awesome conversation I had with Aiden. I got up and typed up the blog and then read it to Ed. He was with me the night before and I had told him all about Levi but he didn't know about what happened with Aiden. So, he walks out of the room and when he returns he handed me a carefully folded up note and said, "Emily gave me this last night to share with you."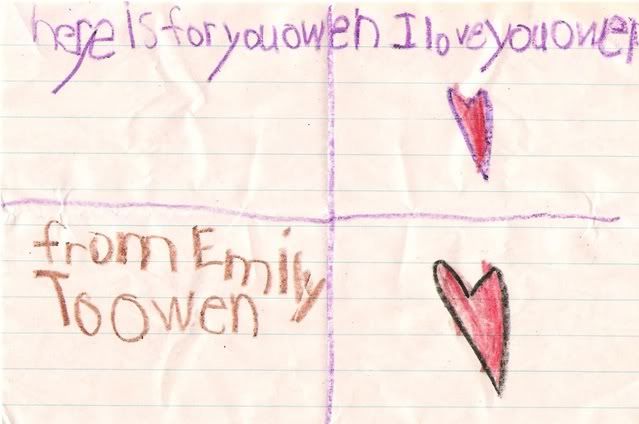 I know it's silly, but I can't help but stand in awe of the fact that while we were in two different places in different towns on the same night, two sweet children, had experiences with us that shared their love for Owen. I mean, really, he's been gone over two months and for a child to remember like that - obviously Emily will never forget the precious life of her little cousin, but for her to still be writing him notes and giving them to us? It amazed me. I just can't help but believe that Owen wanted his daddy and I both to know he's with us and he loves us and he always will.
Wednesday night at church Pastor asked us if we ever felt God's presence when we weren't in church. He asked, if we had moments without other people pointing it out in our lives that we thought, "that was a God moment" or "God is here." I absolutely know I do - and while it may not be popular to be all about God in our world I don't care - God holds my whole life in his hands why would I care what anyone else thought? Praise God for his sweet reminders of his grace and his love, and praise God for the connection we still feel with Owen.
Be blessed.